are very proud to present its' take on how "brain training" game should look like.
We really believe this kind of game should be as entertaining as other genres, and even more than that.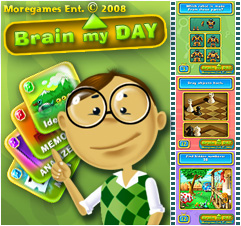 You really have seen nothing until you try this game.
* No more of these boring static images!
* No more abstract color blocks and stuff!
* Play realistic, interactive world, live it!
* Have FUN while you improve your brain skills!

Features by no means reflect what the actual game is, but just for the record, here they are:
- 28 games in total, plus building mode where you plant trees and build structures.
- Tremendous amount of graphical content: over 100 locations where gameplay takes place.
- Unique NEW minigames, absolutely amazing and beautiful.
- 4 game modes - choose your gamestyle.
- Little reading required - concentrate on playing, not studying.
If you have played other brain training games, you need to try it anyway - not only it's a better version of a game, the minigames are also totally new!
Feel free to visit
http://pocketmoregames.com
for more information and screenshots.